Meet the Awesome Women of Air Works
As an Equal Opportunity player, Air Works has incredible women who power our business.
Please help us understand you and your work a little bit better?
I am an Avionics [B2] engineer having been with Air Works since 2007. As a Senior Engineer with more than a decade of experience, I hold licenses for and am responsible for maintaining and ensuring 24/7 availability large and highly complex executive jets such as Global 5000 Vision/ 6000 and Falcon 900EX Easy, for clients across Mumbai and Pune. My work involves managing scheduled & unscheduled maintenance as well as AOGs for these assets. Additionally, I also assist teams with specific tasks on other platforms such as Hawker, Beechcraft and Challenger. I have an adventurous spirit and in my spare time, I love to travel and read books. Some of my favorites include Shiva Trilogy by Amish, Ram Chandra Series by Amish and Many Lives Many Masters by Brian Weiss. I also enjoy gardening and have lots of flowers and plants at home that exude a lot of positivity and gear me up for everyday challenges. I am a mother to a lovely six-year-old daughter, together with a highly supportive and understanding family.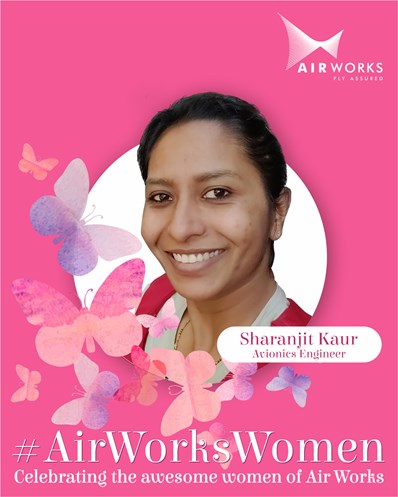 What drew you to Aviation and Air Works?
I grew up in a traditional family in Pathankot, Punjab. As a student, I grew up watching sorties of the Indian Air Force (IAF) jets many times a day which left me mesmerized and yearning to be in aviation. While my family whole-heartedly supported my dream of becoming a pilot, fate had other plans and I finally ended up in Mumbai for my on-the-job training, after completing my Aircraft Maintenance Engineering Course at Delhi, joining Air Works thereafter. Given its legacy and focused approach to aviation, Air Works enjoys a strong and credible reputation among the entire aviation community. In fact, the company has been an Institution and acknowledged training ground for almost all maintenance-related talent in India and the neighboring region for over 50 years and is held in high esteem by the community for its progressive culture, principled and ethical approach as well as renowned workmanship. As a young aircraft engineer, I was naturally drawn towards a professional working environment with equal opportunities and a chance interaction with members of the management ratified and sealed my decision. I knew then that I had to be a part of this team and the accompanying vision.
Can you share your most memorable moments at Air Works?
My tenure with Air Works has given me countless memories, right from the late night shifts on a range of projects in the initial part of my career, to the surprisingly awesome attendance of a significant number of my seniors and mangers at my marriage. It made me exceedingly happy to see everyone being part of the most important occasion in my life. A few others include the appreciation I received from the team at Rolls Royce [OEM] for solving a persistent challenge with the engine despite replacing all possible fault codes. I had to eventually leverage all of my experience, research, intuitiveness, and some out-of-box thinking with support from the team, to find the real issue – which turned out to be Dedicated Generator-related. The resolution of the problem not only reaffirmed Air Works' values of being resolute and committed to the client, but also gave me tremendous self-confidence, aside from all round appreciation from the customer as well as the OEM. I am also fortunate to have been felicitated twice with the Founder's Day Award – Air Works' biggest employee honor - for the Years 2015-2016 and 2016-2017. Additionally, I fondly recall and cherish the support, concern and understanding that was displayed by our entire team including my seniors, in helping me successfully navigate the challenging maternity phase of my career.
As a woman, having spent considerable time at Air Works, how do you find its culture and work environment?
Air Works has always been an "equal opportunity" organization with policies that prioritize customer orientation and responsiveness, independent of gender. This is something that most women working at Air Works truly appreciate, despite being in comparative minority in absolute numbers, reflecting the lack of diversity in the entire aviation sector, including MRO. The equitable culture is formed on the backbone of our family-like environment where support of colleagues and even seniors is available if/when needed. In some cases, even our customers have become part family, given the decades-long relationship we've had with them. Such an environment promotes transparency, building trust amongst people and teams, which eventually boosts morale, collaboration, and performance. I am happy that our culture recognizes and rewards hard work and innovative thinking guided by customer-orientation.
How have you evolved as a person being in Air Works?
It has a long journey, from working with manual registers to now on digital platforms. I have learnt a lot at Air Works having witnessed the application of buzzwords such as skills, teamwork, turnaround time (TAT), collaboration, and leadership. I have become mature, independent, and significantly fearless in sync with my role, which requires me to be open to travel, flexible, multi-task and occasionally even work late hours – just like corporate or office jobs. Working shoulder to shoulder with predominantly male professionals has helped develop a healthy respect, camaraderie, and network support, that comes very handy in our business, which is highly competitive and learning-oriented. Working nights / odd hours and travelling all around for AOG's and inspections has added to my confidence and fearlessness. I hardly ever have a dull moment, given that I am either managing scheduled/ unscheduled tasks or closing formalities or perhaps spending time in reskilling/ training to stay updated with the latest in aviation systems development given the speed of technology and regulatory changes. Keeping up with the above and maintaining the highest possible personal performance continues to be my focus, while balancing my family life simultaneously.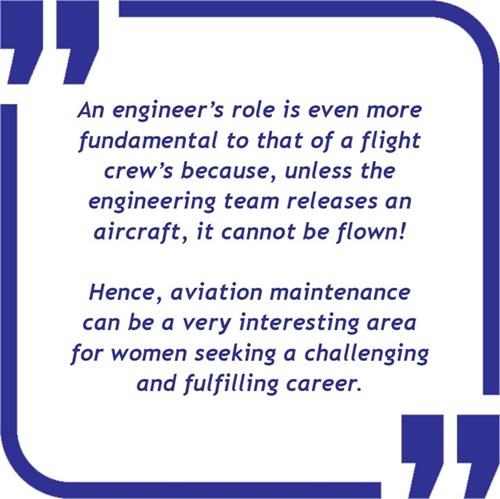 Is there a need to make Air Works more diverse and inclusive? How?
Air Works' family-oriented culture and added flexibility are two important factors that make it conducive for women. With a culture of fairness and equality, opportunities are available for deserving candidates irrespective of job type and women are not restricted from any role. However, while Air Works is part of the larger aviation sector, we need to augment our diversity for greater inclusiveness, especially since MRO/ Maintenance can be an exciting career for young, determined women. Given that women in leadership roles in Aviation are typically seen holding portfolios of HR, Compliances, Communications and CSR etc., it would be nice to see those having engineering backgrounds at the leadership table as well. Campaigns such as IATAs recent 25by2025 campaign can become useful starting points as references in our efforts to prioritize diversity, in addition to initiatives such as this which promote the need for incremental diversity in Aviation. It is also equally important to address this issue at the school level using suitable methods as girls/ women typically outperform boys/ men at the entrance level.
What significance does International Women's Day hold for you? Would you have any advice for women who are considering a career in aviation maintenance?
International Women's Day offers a much-needed opportunity to ensure that the right voices are heard and celebrated. Lately however, the spirit of Women's Day celebration has been getting diluted with marketing gimmicks such as Sales etc. Instead, what we need to ask are questions such as "What percentage of the workplace do women constitute? How many of the leadership members are women? Can they make better flat safety shoes for women instead of heels? Does the company have room for nursing mothers? Are women and men receiving equal pay for the same job? If we can answer these questions, only then we are celebrating a meaningful Women's Day... Ultimately, while change is slowly beginning to happen with people becoming more tolerant of at least hearing and discussing such issues, it is up to each one of us to promote this change in our respective departments/ Company / sectors to secure a better balance for women. Like others before us, we need to stand up and be counted, when needed. As a career, Aviation is a great opportunity and maintenance engineering – an even more challenging and levelling profile. An engineer's role is even more fundamental to that of a flight crew since unless the engineering team releases an aircraft, it cannot be flown! Hence, aviation maintenance can be a very interesting area to women seeking a challenging and fulfilling career. At the same time, the sense of satisfaction that results from troubleshooting a problem can be a highly fulfilling and gratifying. My advice to women in aviation is to take advantage of the opportunities being made available. Women must navigate from their strengths and go beyond engineering. Their point of view and skillset is invaluable and as a community, they must network more to support and learn from each other. Communication is key and women need to make their voices heard and their presence felt. Communicating the value one brings to an organization and advocating oneself is a crucial key in the journey to success.