SA Air Works Becomes India's First Avionics Design Organization
02 Nov 2022
~ DGCAs Design Organization Approval is a landmark step in India's long-awaited journey to become Atmanirbhar in Civil Aviation & Aerospace ~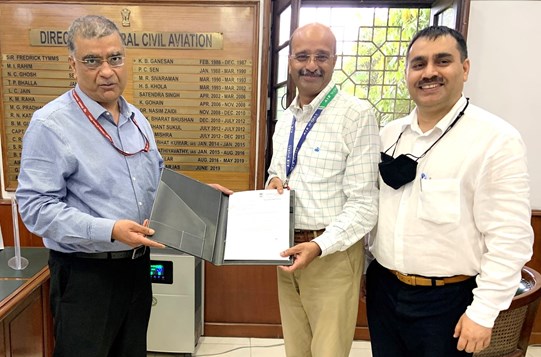 Mr. Arun Kumar, Director General DGCA, hands over India's first DOA in Civil Aviation to an ecstatic Air Works Group team led by Mr. D Anand Bhaskar, MD & CEO, Air Works Group and Mr. Ajay Sharma, CEO, SA Air Works
DELHI/ NCR: SA Air Works – the Joint Venture (JV) Company of the Air Works Group and Scandinavian Avionics (SA) Group - has achieved a landmark milestone in the history of Indian Civil Aviation & Aerospace sector by becoming the country's first Avionics organization to receive the Directorate General of Civil Aviation's (DGCA) Design Organization Approval under CAR 21.
The approval for Avionics design is a historic first step and especially significant in India's long-awaited journey of becoming Atmanirbhar (self-reliant) in the design domain, given our fast-growing aviation & aerospace market.
As an approved Design Organization, SA Air Works now possesses the capability to define or create design procedures including Supplemental Type Certifications (STCs) and Repair schemes for undertaking minor or major changes on both fixed-wing aircraft (equivalent to Federal Aviation Regulations/ Certification Specifications FAR/ CS - 25, >5700 Kgs and  FAR/ CS - 23, <5700 Kgs), and rotary-wing aircraft (small & large helicopters, equivalent to Federal Aviation Regulations/ Certification Specifications, FAR/ CS - 27,<3175 Kgs and FAR/ CS -29, >3175 Kgs) related to avionics, electrical, navigation and  communication systems including cabin equipment and related structures under CAR 21, within the country. In short, the Design Organization Approval covers the entire spectrum of aircraft types, right from Rotorcrafts/ Helicopters to Business Jets as well as those meant for Commercial Air Transport.
Thrilled to receive the approval, Mr. D. Anand Bhaskar, Managing Director & CEO, Air Works Group said, "The Design Organization Approval is an excellent news not just for SA Air Works but indeed a shot in the arm and a matter of pride for the entire Indian Civil Aviation and Aerospace sector, which can now step into a higher trajectory with this extremely critical capability. The world could eventually be our market with such approval in our portfolio."
"Having a Design Organization status means that we no longer need to be dependent on third parties for such critical work which can now happen within the country, indigenously, reducing budgets and timelines, for an array of avionics-related work," added Mr. Bhaskar.
This approval will enable SA Air Works and India to market its design capabilities in the certified areas to OEMs and operators domestically and overseas. Besides, it will give added benefits to customers in the form of shorter lead times and cost savings for the design/ certification and installation process, leading to customer satisfaction.
Speaking on the accomplishment, Mr. Ajay Sharma, CEO, SA Air Works said, "The receipt of the Design Approval fulfils our strategic intent and dream of becoming Atmanirbhar in the civil aircraft design space and offer avionics-related design services to operators, aircraft owners, customers, and OEMs both in India and abroad. I would like to acknowledge the efforts of our entire team and the support of Scandinavian Avionics - our JV partner – in all these years in making this a reality."
Mr. Sharma further added. "Being the country's first private enterprise to have been accorded this approval is indeed a proud and gratifying moment. As an immediate step, we look forward to submitting our very first STC for regulatory approval. The design approval is a stepping-stone and will eventually open the floodgates of design into India, helping us not only conserve forex outflow as a nation and, to also begin creating our IPs in civil aircraft design space, making our business offerings more comprehensive and the Indian civil aviation industry, sustainable."
As a leading Avionics Systems Integrator, Designer and a turnkey Avionics solution provider to customers, SA Air Works has been a dominant player with a significant market share in the Indian and regional aviation market. The company counts both Civil and Military aviation, leading Institutions, individuals, and corporates that own/ operate aircraft, including private or business jets and rotary wing (helicopters) machines, as its customers. SA Air Works has delivered a significant number of high-quality avionics upgrades and cockpit transitions in India, including customizations, ahead of time and at highly cost-effective prices.
The company already holds the requisite design approvals from the Regional  Centre for Military Airworthiness [RCMA]/ CEMILAC* to undertake necessary design tasks including Building Modification Leaflet/certifications, Systems Integration, installation related to Avionics, electricals for Military Aircraft (Fixed & Rotary Wing aircrafts) and DGCA CAR 145 approval.
*Following the ongoing restructuring of the CEMILAC processes, SA Air Works is currently engaged in realignment with the updated processes.
About SA Air Works
Established in 2010, SA Air Works is a 51:49 Joint venture of the Air Works Group with Scandinavian Avionics (SA) Group. The SA Group is one of Europe's leading avionics Design & Engineering companies and provides complete turn-key solutions for the international aviation and defence community comprising sales, avionics maintenance (MRO), certification (STC), design & engineering, installation, product development, and consultancy services.
SA Air Works offers a comprehensive portfolio of services including design, engineering, integration, and installation services for forward fitment & retro fitment on aircraft, Equipment Sale and Supply, Extended Support Programs, Repair Services, and Consulting Services. The company's has partnerships with almost all the leading global Avionics manufacturers such as Bendix King, Universal Avionics, Collins Aerospace, Artex, Kannad, Avidyne, Sandel Avionics etc.
Key projects executed in India & the subcontinent include Cessna 152/172, Falcon 2000, Hawker 800XP, King Air C-90, Cessna 525 XLS, Beechcraft B-200/ 300, Do-228, Q-400, Bell-412 EP etc., including the country's first GAGAN implementation on AAIs Indian aircraft. Besides Civil platforms, SA Air Works has also successfully delivered Avionics upgrades on several military platforms. Today, SA Air Works manages over 100+ aircraft in India for Avionics and related support services. For more details, visit https://airworks.aero/services/avionics