Meet the Awesome Women of Air Works
As an Equal Opportunity player, Air Works has incredible women who power our business.
Please help us understand you and your work a little bit better?
I describe myself as an avid learner who's been in the aviation industry as an Aircraft Maintenance Engineer (AME) for over fourteen years. I'm type-rated on several aircraft including A320, A330, B777 and B787s.

I began my career with Air Works in 2018 after stints with Qatar Airways and Kingfisher Airlines. As an Avionics Engineer, I play a dual role in our International Line Maintenance division either troubleshooting faults myself or as part of the Air Works' Maintenance Control Center (MCC) at Bengaluru. MCC is the nerve center for AOG, tailored to offer excellent services to customers 24/ 7 since 2012.

At a personal level, I am a melting pot of all the southern states of India – having spent my childhood across them and being a fervent multilingual speaker. My mother hails from Andhra Pradesh, my father, from Kerala and my spouse, from Karnataka. I am therefore proficient in Kannada, Malayalam, Telegu, English, and Hindi. Being multilingual helps me to communicate with our pan-India colleagues with complete, aiding quick resolving of technical issues.

I have a young daughter and most of my free time is spent with her, creating a foundation for being a good human being. For me, being human takes precedence over everything else and I firmly believe that there is no better way to serve one's family, community, and nation than being a good human being, backed by a strong value system, respect, and love. In this, I also get immense support and encouragement from my spouse, who is a Pilot.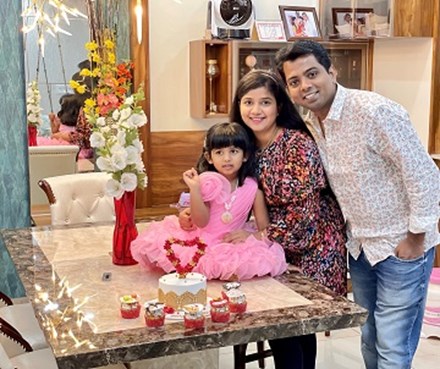 What's the story behind your interest in aviation?
I have a curious and analytical mindset. When I was a kid, I remember having a table clock. One day, I just used a toolbox to open it and repair it from scratch. I guess, I was curious to explore the working of the clock. The whole process was very fascinating and intensely satisfying, to have learnt the inner workings of the clock.
Add to that, my father, who was in aviation often took me to the see aircraft. That drove my fascination and love for these large birds. Curiously, I felt being drawn to these amazing machines in order to check their technical parts. This curiosity pulled me to the aviation industry and I believe that "God put me in the place I desired". 
Why did you choose Air Works?
I was returning to India and to be with my family after having spent seven years in Qatar. For the aviation engineering & maintenance community, Air Works enjoys an incredibly revered positioning, given the immense value it places on its employees, encouraging them to learn, and grow within the company. Eventually, I was equally impressed with its leadership team during my interview process and decided to be part of the Company.


Which has been your most memorable moment at Air Works?
I've had many memorable moments at Air Works. They all reflect the good and immensely enjoyable times spent with colleagues, especially instances where they helped me, we shared a cheer and a laugh.
Memorable moments also include the times I've been supported or appreciated by my seniors, including at times, by our leadership team. I was recently awarded the High Flyer Award - which is very dear to me since it is an acknowledgement and recognition of my work. More recently, during the pandemic, I received yet another commendation – Special Performance Award - for exemplary performance and contribution to the business for having ensured a smooth flow of services in challenging timelines.
 
How do you find the work culture and environment at Air Works? 
Air Works is a highly customer-focused enterprise. The organizational culture is warm and friendly, and I really appreciate it. It takes a lot of investment to shape and sustain such a culture. Employees voices are heard and there is a strong sense of accessibility. The leadership team always there to lend an ear to any suggestions and/or information.
The company has been taking steps to further enhance employee participation. Platforms such as Ideabox enable employees to share ideas and express their views from any part/ location. As a woman, I have always felt at ease and fully respected among my male colleagues, helping me work fearlessly.
Aviation Engg. & Maintenance has traditionally been a male-dominated segment. How do you feel working in such an environment compared to perhaps working at an airline in your earlier roles?
There have been many times where I have been the only woman working, beginning with my OJT days and even at Air Deccan, where I was the only woman technician. Even while working with Qatar Airways, I was the first woman Avionics technician in Line Maintenance, and eventually grew to become an engineer.

Aviation is an always-on, highly demanding and a well-connected domain. It has evolved to such an extent that roles have clarity and are broken into well-defined outputs, independent of gender. From an engineering standpoint, we have no margin of error and must always remain alert. This independence of task vs. gender is increasingly prompting more women to join aviation. I have been fortunate to have had the support of seniors and colleagues who have motivated me and offered equal opportunities to work and enhance my skills, given the larger goals, that demand teamwork and collaboration.
Having worked both in India and abroad, have you experienced any bias in terms of your working/ capabilities? Where did it happen and how did you feel about it?
Aviation necessitates that one must like traveling, change including working in shifts. The passion for Engineering and maintenance drives anyone to experience immense joy and gratification when one resolves issues or troubleshoots. Fortunately, I have not experienced bias in my career, which I believe has been since expectations in our role are well defined and structured. Our ability to address issues reflects our expertise and effectiveness, minimizing reasons and opportunities for bias. I've also been lucky to have the support and encouragement of my spouse, who's also in aviation and an immense pillar of strength for me. 
How, in your opinion, can women #Breakthebias – the theme for IWD 2022?
Men and women possess complementary strengths. While matters of knowledge can be attained by sheer excellence that both genders go through, women possess natural advantages in multitasking, articulation, collaboration, and endurance (emotional strength). I firmly believe that these position women to be more effective and become valuable assets for any organization in appropriate roles.
#Breakthebias is likely to be more meaningful for those women who're making a choice of their career, as this will make them choose aviation engineering and maintenance as an area where they can excel on equivalent terms.
Are women recognized enough at Air Works?
As a woman employee of Air Works, I can categorically say that women are recognized. In fact, the organization provides its women employees equal opportunities to grow, learn and achieve as the male counterparts.
As a woman, I currently lead the Air Works' MCC. MCC as I shared earlier, is the backbone of our International Line Maintenance services. This is where we maintain extensive touchpoints with our demanding global customers and having a woman head such a critical portfolio is a testament to the Air Works' culture and confident ways of working, which reward meritocracy.
I am happy to share another small yet sensitive experience wherein we were once referring to our Engineering manuals on behalf of an airline customer stuck at one of our stations due to an air turnback. I supported my male colleague vide my role in the MCC, helping him isolate the snag and troubleshoot. Immediately thereafter, my colleague sent me an appreciation mail expressing his gratitude for helping him and the customer avoid an AOG situation.
This small event not only reflects the maturity of the organization but also that of our male colleagues, who increasingly perceive us as capable professionals, standing shoulder to shoulder with them to ensure our customer's convenience at all costs. In fact, Air Works' MCC comprises several women employees [Maintenance Engineers], going about their roles on an everyday basis.
What are your hobbies?
I am fond of singing. I sometime write songs, translate them in other languages. I also enjoy dancing. My most recent cultivated hobby is blogging. 
How is aviation – including MRO, a career for women?
Today, there are an increasing amount of career opportunities for women in the aviation industry, including in Aviation Engg. and Maintenance. With the impending growth in aircraft fleet, Engg. & Maintenance roles are expected to increase. My advice for them would be to take their fair chance and take up whatever gives them utmost satisfaction. It is an incredibly exciting industry but like all others, also has its peculiar challenges. What is excellent is that the aviation industry has realized that intellectual value is independent of gender, and women are no less than men when it comes to maintain aircraft.